About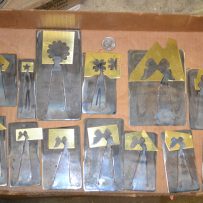 Makers of what are unquestionably the best custom pancake blanking dies since 1987 . These are handmade, heat treated tool steel dies, designed to cut thick or thin metal cleanly, without messy burrs on the back , and without metal sticking in the die . You can buy cheaper dies elsewhere, but you get what you pay for , and with our dies you get dependability and longevity , plus the ability to do intricate designs of your own .
Unique, inexpensive dies for cutting parts in sheet metal, thin plastic, and thick paper.
Custom made dies of your designs at a small fraction of the price of conventional die sets.
Part Punching service using you dies, confidentiality guaranteed.
Use parts for jewelry, ornaments, sculpture, decorative accents for tack, ornamental tinwork, lawn and garden accents, etc…
Sheltech is Dave Shelton (call me "Dar") and Dennice Shelton (call her "Q"), a husband and wife team in central  New Mexico. I, Dar, the founder, was a jewelry maker, designer, and model maker from 1974 to 1985. I obtained the RT Blanking System in 1985, but was not impressed by the equipment or instruction as it was at the time, and set about getting things up to a real production level. I became obsessed with perfecting the process, and got very good at sawing out dies along the way. I ended up setting aside the jewelry career in favor of this present one.
I have been known to do the odd fabrication job , though I generally don't do more than make dies and punch out parts for people . The jewelry manufacturing background gives me a deep perspective  on making small metal parts , and has been applied to making dies in many ways .